Supercars and hypercars commanding prices that eclipse what any people earn in years isn't unheard of, but what about their two-wheel counterparts? Are there equally pricey motorcycles? RockLuxury takes a look at some of the most expensive (and insane) production motorcycles in the world!
For many, a motorcycle is a utilitarian mode of transport moving them from point A to B, while, to others it's a passionate means of self expression. If money was no object, and you wanted a bike to compliment your insanely expensive limited edition auto toys, what would you get?
[AdsWithin]
For such niche customers there exists a very rare breed of bikes which apart from their incredible craftsmanship and performance sport price tags that put many sports and luxury cars to shame.
Here's a look at some of the most expensive production motorcycles:
NCR M16
Price: $232,500
How do you make a bike worth almost a quarter of a million dollars? Simple… by taking a donor bike which is already expensive and going crazy with it. Boffins at NCR took the already bonkers MotoGP and the Ducati Desmosedici RR and went berserk, resulting in the creation of the NCR M16.
The machine weighs just 144kg (dry weight). To attain this, M16 features a carbon fibre frame, swingarm and wheels, along with ceramic matrix composite brakes, and specially tuned Ohlins to lay the power down nicely on the tarmac.
The engine has also been tuned extensively and delivers over 203PS of power on the rear-wheel. The final cost? $232,500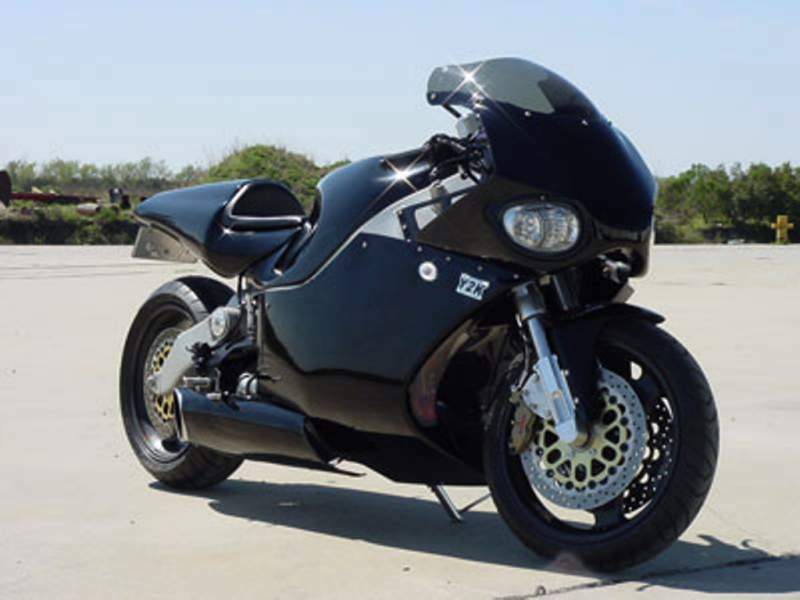 MTT Y2K Superbike
Price: $175,000
If a normal bike builder wanted to create a fast bike he would mostly go in for a twin-cylinder or an in-line four engine and tune its nuts out to extract as much power from the mill as he can. But Ted McIntyre of Marine Turbine Technologies thinks slightly differently. Instead of plonking a normal internal combustion engine, he installed a Rolls-Royce-Allison Model 250 turbo shaft engine from a helicopter to power his behemoth!
The stock engine pumps out an astounding 324PS of power but if you want to go full bonkers, there is the Streetfighter variant with an insane power output of 426PS and a torque rating of 678Nm! All these numbers mean the Y2K boasts a top speed of 365km/h which can put many hypercars to shame.
To translate all that power on the road the bike uses a 240mm Pirelli Diablo rear tyre and instead of a standard review mirror as found on all motorcycles, the Y2K employs a rear-mounted camera with LCD color display on the instrument cluster. Speed and the world's most powerful production bike comes at a price and the Y2K commands a cool $175,000.
[AdsWithin]
Icon Sheene
Price: $172,000
Icon is a has a longstanding reputation in the racing world. The excitement was understandable when they decided to build a tribute bike to legendary British rider Barry Sheene. For the tribute bike they utilized a 1,400cc Suzuki mill, which was mated with a Garrett turbocharger running at 0.4 bar pressure, resulting in a final power output of an incredible 253PS.
The Icon Sheene features a custom made tubular aluminum frame, a fuel tank made from hand-beaten aluminum and hand-laid carbon fibre body panels. Each bike features a hand-painted image of a playing card held by a bikini-clad girl.  There are 52 cards in a pack and that's how many Icon Sheenes were made.
Confederate B120 Wraith
Price: $135,000
Looking at the B120 Wraith, the first thought that strikes my mind is: "a wah this yah sumpn yah?"  It doesn't even remotely resemble a standard motorcycle, nor does it have the performance (127PS from an air cooled V-twin) to command a price tag which would help it enter this list.
What makes the Wraith one of the most expensive production bikes in the world? The answer is in the details—carbon fibre frame, handmade massive fork and seven-spoke wheels. For Confederate, functional minimalism is of utmost importance, and with the Wraith they took it to the next level. The aircraft-inspired chassis consists of a carbon fibre spine complemented by aluminum bulkheads sandwiching the engine.
The fuel tank is located under the motor, while the front suspension shuns conventional telescopic forks in favour of a blade-type girder arrangement. With customers like Tom Cruise, Brad Pitt, Bruce Springsteen and King Abdullah II of Jordan, they have every right to command an asking price of $135,000.
[AdsWithin]
NCR MH TT (Mike Hailwood)
Price: $130,000
When NCR planned to build a tribute bike for Mike Hailwood, it was obvious that the machine would have to be special. The MH TT is NCR'S tribute to commemorate the 30th anniversary of legendary racer Mike Hailwood's victory at the Isle of Man.
The MH TT is a modern replica of the Ducati 900 NCR, which Hailwood rode to record his famous win. The donor bike is the Ducati Sport 1000 which was modified extensively to reduce as much weight as possible, and the super lightweight bike tips the scale at just 136kg. Like its other creations NCR has sought the aid of titanium and carbon fibre to shed the extra flab. The 1,120cc engine pumping out 132PS is nestled in a titanium frame which weighs a mere 5kg.
The exhaust and frame of the bike has also been crafted from titanium, whereas carbon fibre has been employed on the body panels and wheels. Just 12 MH TT were built and each bike cost $130,000.
MV Agusta F4CC
Price: $120,000
When the CEO of Italian exotic motorcycle brand MV Agusta agrees to lend his name to a ride, then the end product can be nothing short of spectacular. The MV Agusta F4CC (CC stands for Claudio Castiglioni), is according to the company's boss, the most extreme expression of the brand MV Agusta. Powering the F4CC is a 1,078cc mill, competent enough to pump 203PS of power and enable the bike to attain a top speed of 315 kph.
Though visually the bike looks similar to the standard F4, according to company officials around 90 per cent of the entire superbike has been crafted using custom-built parts. To keep the weight of the bike as low as possible, titanium guards have been used in the intake and the air outlets along with the classic four-pipe exhaust system.
Carbon fibre has been employed to craft the bikes body panels and fenders, whereas the single-sided swingarm to the rear wheel is made entirely of magnesium. Only 100 of the F4CC were built at $120,000.
Every bike purchaser was gifted a Girard-Perregaux Laureato EVO3 F4CC wristwatch worth $22,856.