First settled by Arawak Indians who arrived from South America, the Carib Indians eventually followed, and they named the island "Soualiga," or Land of Salt.
As for European discovery, Christopher Columbus (on his second voyage to the New World) spotted the island in 1493, on the feast day of Saint Martin of Tours, thus the modern name.
In the 1620s the Dutch began to harvest the island's salt ponds. The Spanish, knowing the value of salt, built a fort on the island in 1634 to control access to that valuable commodity.
In the early 17th Century, the Dutch and French began to build small settlements and eventually drove the Spanish off the island.
On March 23, 1648, the Dutch Republic and France agreed to divide the island between their two nations, with the signing of the Treaty of Concordia.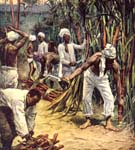 On into the 18th century, the Dutch and French developed many large and profitable sugarcane plantations. To provide the labor they imported African slaves in huge numbers.
Divided between two countries for over 350 years now, St. Martin/Sint Maarten is harmoniously shared by the French and the Dutch.